LEGACY SPORTS ACADEMY
Legacy Sports Academy is a state-of-the art multi-sport complex featuring the largest indoor facility in Arkansas with over 20,000 square feet of indoor artificial padded turf. Legacy's primary athletic training and development focuses around baseball and softball. The 9,000 square foot Performance Center contains six 70' batting/pitching cages and a 100' x 14' strength/conditioning training area. The 12,000 square foot Field-house contains 110' x 110' of padded turf and netting with two retractable batting/pitching cages. The Fieldhouse accommodates a 90' baseball infield with adjustable bases for baseball/softball base path distances. In addition, the Fieldhouse is perfect for football, soccer, lacrosse and scrimmages.
Our mission is to leave a Legacy for our youth delivering a True Athletic Experience that teaches character traits such as leadership, teamwork, respect, sportsmanship, positive attitude, solid work ethic, and athletic development, all while learning necessary life lessons and honoring God with their abilities.
In order to achieve this mission Legacy Sports Academy provides a children friendly atmosphere conducive to learning team skills, growing families closer, and providing guidance to children in need while allowing them to have fun in a sports atmosphere. We accomplish this by making sure we provide a facility and staff geared toward teaching children the appropriate skills they need to succeed not only in sports, but also in life. In doing this we develop a Legacy of young athletes who become confident, responsible, and respectable leaders of our community.
LOCATION
297 Seba Road
Centerton, AR 72719
HOURS
MON-THUR 3:00p-9:00p
FRIDAY - 3;00p-8:00p
SATURDAY - 9:00a - 3:00p
SUNDAY - 2:00p- 7:00p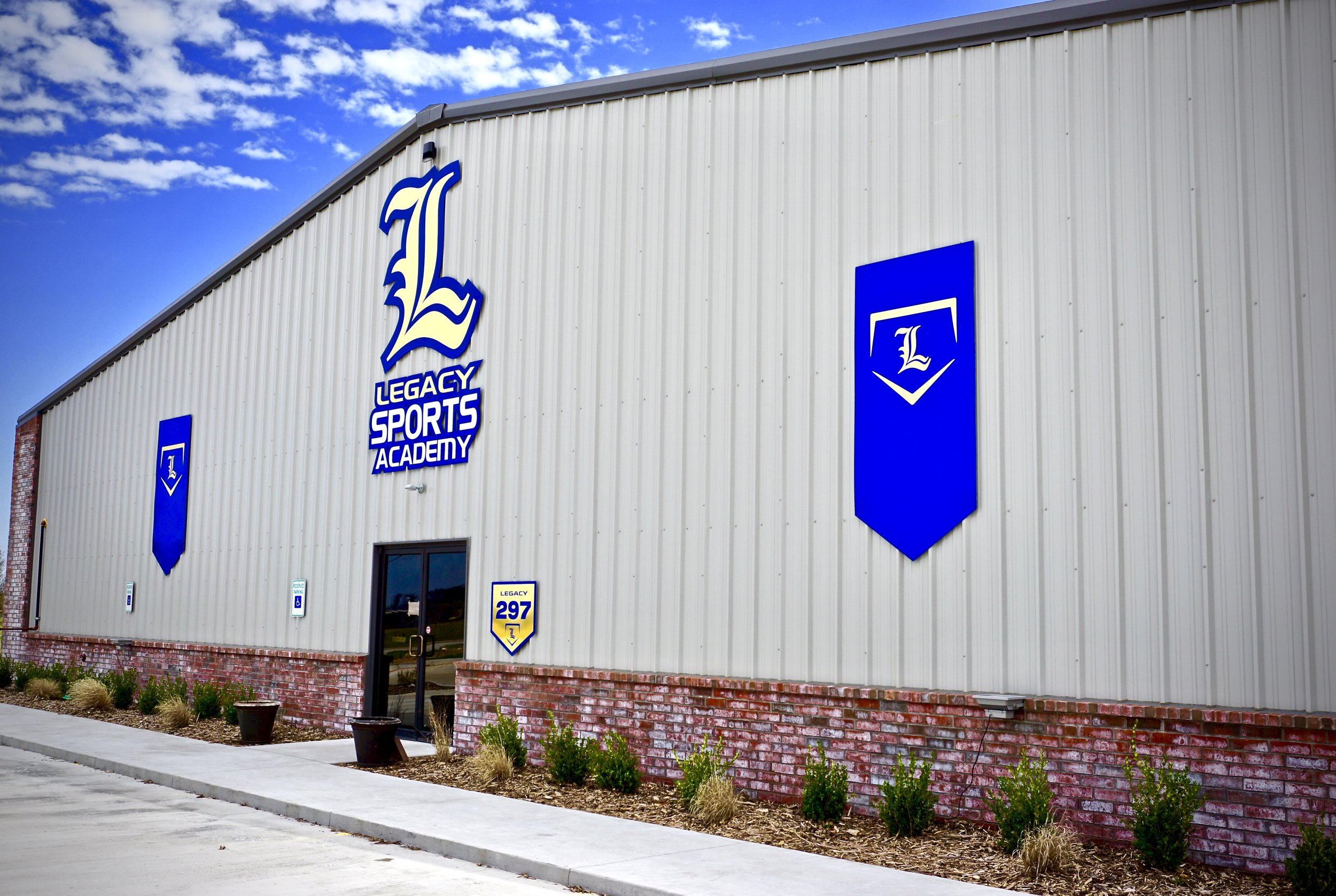 PRO INSTRUCTORS
Fearless leaders who love God, family, athletics and enjoy passing their skills, knowledge and love of the game to our youth.
MATT VINSON
President
Lead hitting program
Extensive background that includes the University of Arkansas, where he played baseball from 2010-2013, and graduated with a degree in Communication and a minor in Business. In 2013, he was chosen Captain by his peers leading them to a third-place finish in the College World Series. Vinson was then drafted by the Arizona Diamondbacks and retired after playing one year in the minor leagues.
JARRAD HARDIN
director
FASTPITCH SOFTBALL
A professional hitting and pitching instructor, Jerrad got his start in softball in 1999, as a head coach for Cozad High School, where he coached for six years, guiding his teams to five state tournament appearances, a state runner-up finish, two state championships and a former NCA Coach of the Year. Today Hardin is recognized as one of the top hitting instructors in the country - having consulted with numerous top DI softball programs and countless college athletes.
zack cox
DIRECTOR
HITTING & DEFENSIVE FIELDING
A former Arkansas Razorback and first round pick by the St. Louis Cardinals. He holds the Razorback records for hits (102) and batting average (.429) in a single season. He led the SEC in hitting in 2010 and was an All-American third baseman. Cox signed a contract with the Cardinals as the 25th overall selection in the 2010 MLB draft. In December of 2016 he signed with the Detroit Tigers organization after his 7th year of playing professional baseball.
JOE HAUSER
PITCHING, HITTING AND STAFF COACH
A former Angelo State University Ram from 2014-2017, and pitcher for the Schaumburg Boomers of the Frontier League. Joe has appeared in two division 2 College World Series and holds the record for saves in a season (15) at Angelo State. As a member of the Boomers this past season, Joe led the pitching staff to win the Frontier League Championship.
CARLOS LOPEZ
HITTING AND FIELDING
A former Cal State Fullerton Titan and tenth round draft pick by the Miami Marlins. He's fourth all-time with 287 hits and a .338 batting average. In the Marlins organization he broke the single season hits record for the Greensboro Grasshoppers. He played professionally from 2013-2019 with a career .304 batting average and was a 4-time all-star.
location
297 Seba Road
Centerton, AR 72719
Call During Business Hours
479-224-9917